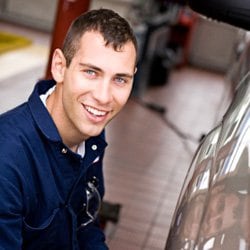 Whether you're restoring a classic Ford, modifying your Lincoln, or just taking care of some long overdue part replacements, you want to make sure you have the best possible parts. You want to keep your high quality Ford or Lincoln car on the road. Fortunately, the Parts Center at Prescott Brothers Ford & Lincoln in Princeton, Illinois has you covered.
Get the Best OEM Ford and Lincoln Parts in Princeton, IL
Whatever parts your Ford or Lincoln vehicle needs, the Parts Center at Prescott Brothers Ford will be able to help you. Prescott Brothers has an impressive inventory of genuine OEM Lincoln and Ford parts. If we don't have what you're looking for, our well-trained staff will get you the part you need as soon as possible.
Order your OEM Ford or Lincoln Parts online with our convenient order form. Then, schedule service to get your new part installed today. If you have any questions, contact the Parts Center, and our staff will assist you.
Make sure to look into the other services offered by our Princeton, Illinois, based dealership, like our current service deals. We look forward to serving you. Call our service team today at (888) 546-1433.